Memorial Bench Program

The Minocqua Winter Park Memorial Bench Program offers a unique opportunity to honor and preserve the memory of someone special by placing a plaque on one of the benches located throughout the park.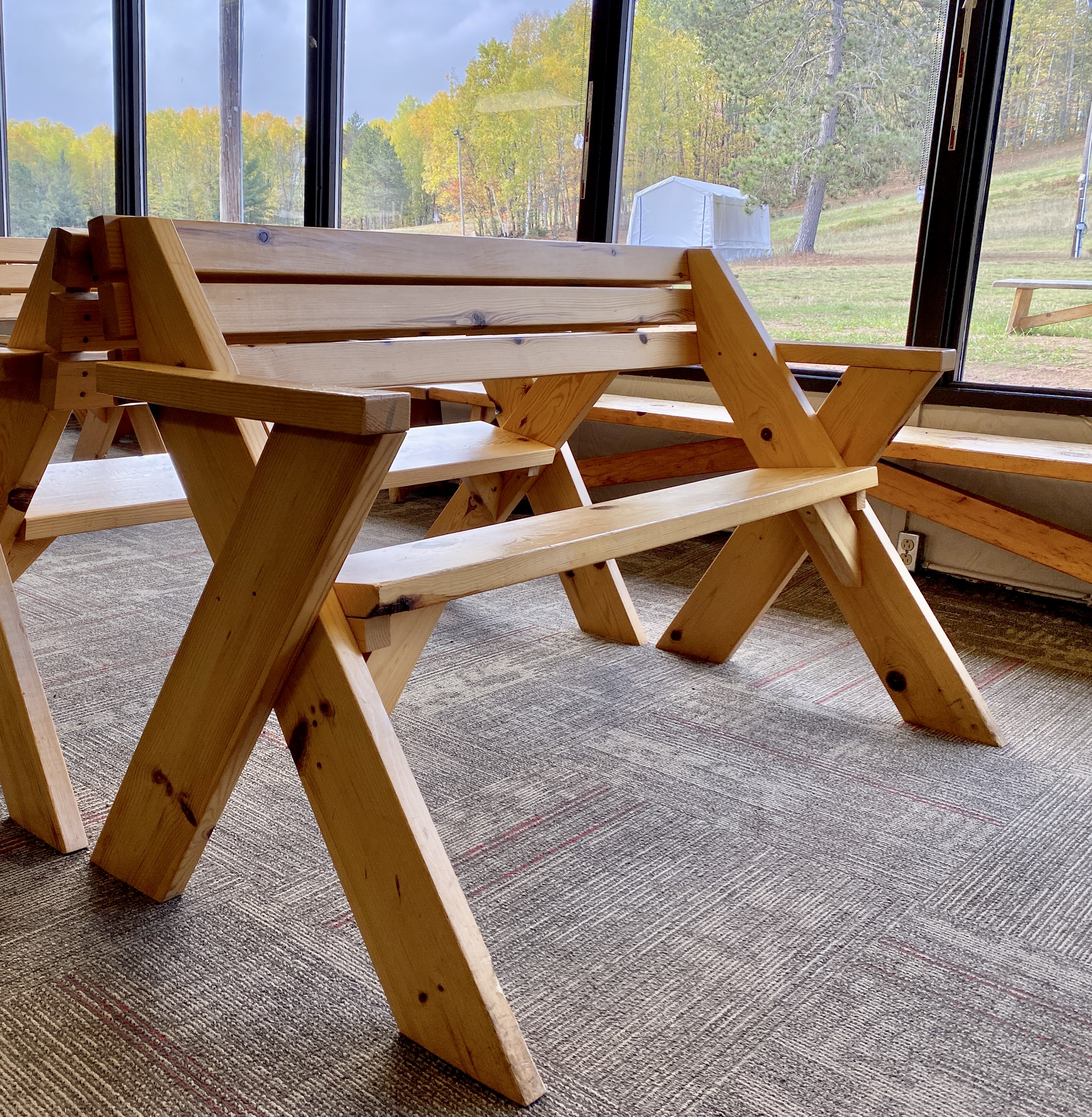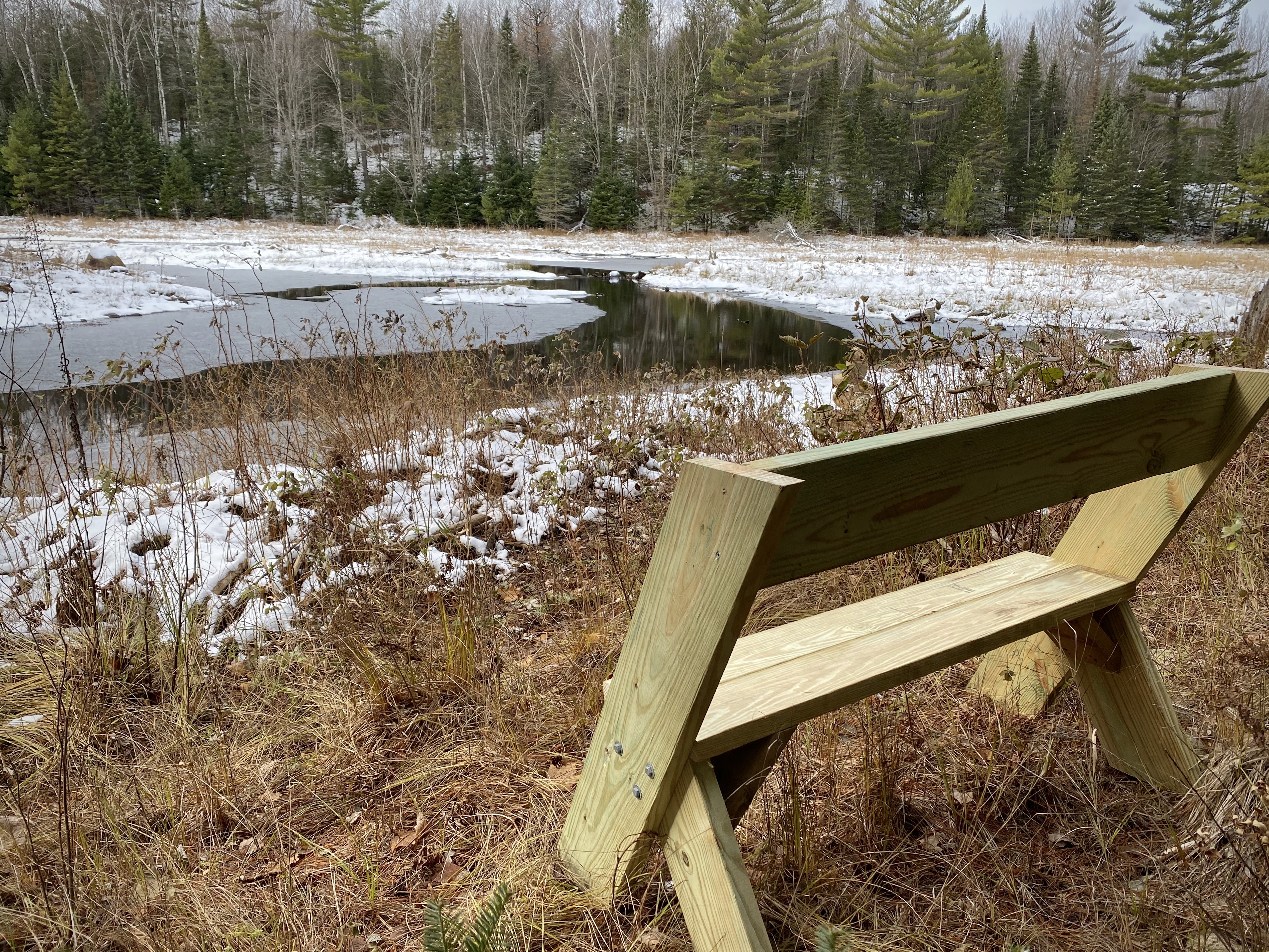 ---
Bench Locations and Styles
Trailside 
Location: These benches are located along our beautiful and scenic ski and snowshoe trails and at 4 trailside shelters. See map below for exact bench locations.
Style: Trailside benches are Leopold style and are 4' long and constructed of treated lumber. Benches located outside the Tea House have the same style as the Chalet benches below. 
Inside Chalet 
Location: Choose to place your plaque on one of the benches located inside the chalet where guests start and end their daily adventures!
Style: Chalet and Tea House benches are 5' long and constructed of treated lumber with a lacquer finish and arm rests.
*Benches may only be placed at pre-approved locations*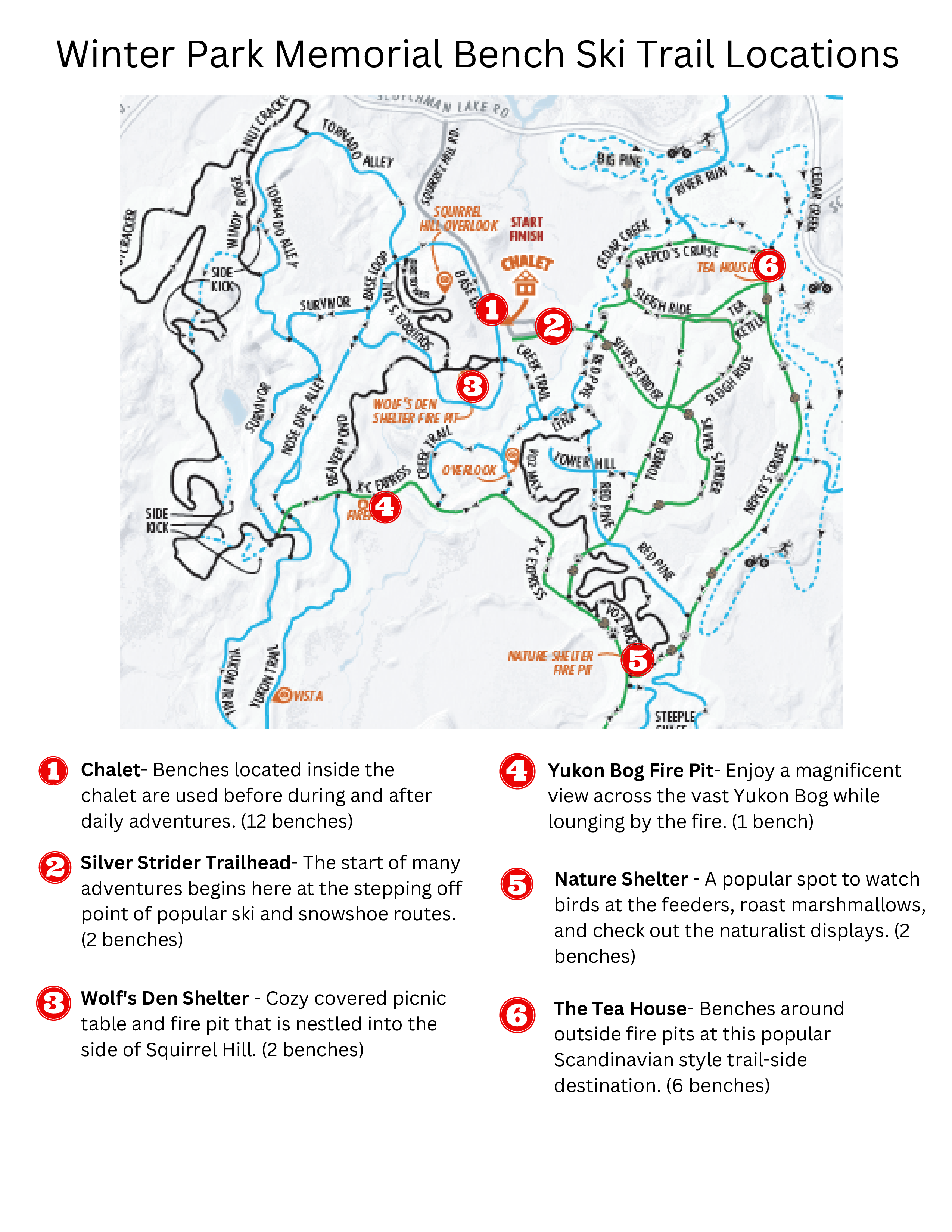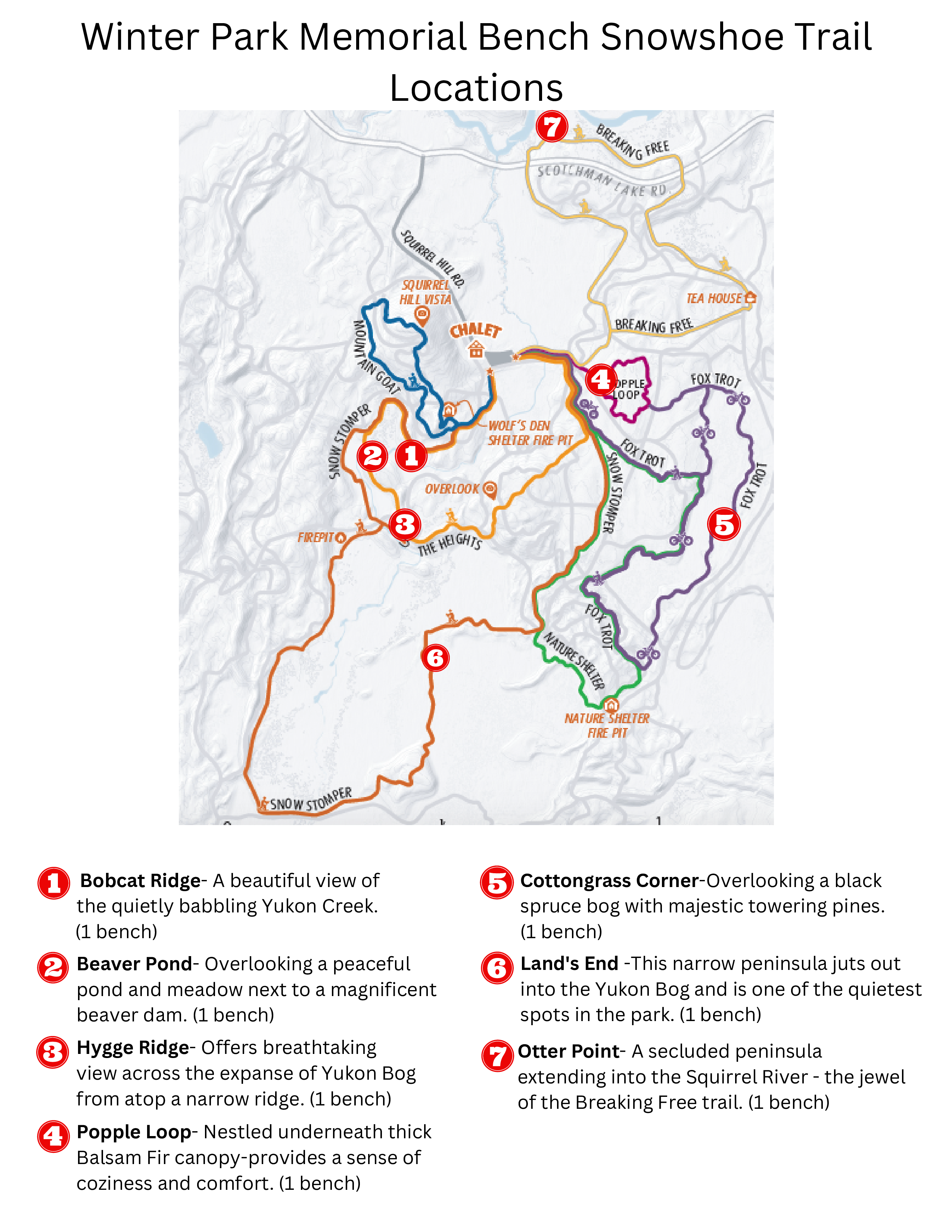 See the chart below for information on bench location availabilities
| | |
| --- | --- |
| Bench Location Name | Number of Benches Available |
| Chalet Interior | 11/12 |
| Silver Strider Trailhead (multi-use) | 2/2 |
| Wolf's Den Shelter (multi-use) | 2/2 |
| Yukon Bog Fire Pit (multi-use) | 0/1 |
| The Nature Shelter (multi-use) | 2/2 |
| The Tea House (multi-use) | 6/6 |
| Bobcat Ridge (snowshoe) | 1/1 |
| The Beaver Pond (snowshoe) | 1/1 |
| Hygge Ridge (snowshoe) | 1/1 |
| Popple Loop (snowshoe) | 1/1 |
| Cottongrass Corner (snowshoe) | 1/1 |
| Otter Point (snowshoe) | 1/1 |
| Land's End (snowshoe) | 1/1 |
---
Plaque Engraving and Text
Plaque is 3" x 8" black brass on burnished brass. Letter height is 1/4" with up to 40 characters and four lines in Roman Font. You're able to personalize your message however you'd like as long as it fits the above criteria. 
Plaques will be placed on the center of the backrest of each bench.
---
Bench/Plaque Maintenance Plan
All benches and plaques become property of Minocqua Winter Park Foundation. 

Memorial bench or plaque may be replaced once at no cost within a 10 year time frame. After which donors have the option to renew their donation.

Plaques will remain in place even if not renewed after the initial 10 year period however:

Maintenance of plaque is no longer guaranteed

Bench location will be made available to other donors and your plaque may be removed if a new donor requests the location

Minocqua Winter Park reserves the right to remove a damaged memorial plaque after the 10 year maintenance period if renewal has not taken place.
---
Bench Costs
Memorial bench donations cover materials, construction, plaque, installation, and maintenance.
Trailside Benches - $500.00
Chalet Benches - $750.00
---
Application Process
Submit attached form via mail or email.

Once application details are finalized by Winter Park staff, you will receive information about payment options. (Your location is not guaranteed until we receive your payment)

Once payment is received, the construction process will begin. A proof of the plaque inscription will be sent to you before construction begins.

Donors will receive a receipt as proof of project completion, and notification when the bench is built and ready to be placed.
Click the following link to download the form and begin the PAPER application process! Memorial Bench Downloadable Form
Click the button below to begin the ONLINE application process!