Candlelight Snowshoe and Ski
Location:

Minocqua Winter Park Chalet, 7543 Squirrel Hill Rd, Minocqua WI 54548

Dates:

December 31, 2023

through

March 09, 2024
---
---
Event Details
Explore Winter Park by Candlelight
Explore Minocqua Winter Park by the light of candles and stars! There are candlelight events for snowshoers and skiers. Below are descriptions of each event as well as the links to purchase tickets. Tickets are $5, but are free for park members. Tickets can be purchased online or in person at the chalet. Be sure to stop by the Chalet to pick up a glow necklace before beginning your candle lit adventure!
New Year's Eve Candlelight Snowshoe
Let's light up the night this New Year's Eve! Join us for an enchanting evening snowshoe hike that is lit by close to 300 luminaries! Hike to the Wolf's Den Shelter and take in the warmth of a campfire and sweet treats before heading up Mt. Goat to the top of Squirrel Hill. Catch your breath and have it taken away again as you gaze out into the horizon at the Squirrel Hill Overlook. Enjoy a fire at the top as well. The lit route is about 1 mile with a shorter, easier option available for those who prefer to stay on flatter terrain.
Date

December 31, 2023

Time

5 pm - 7 pm
Candlelight Ski Events
Want to experience Winter Park at its most unique time? Join us for a magical candlelight ski along the beautiful, and family-friendly, Silver Strider and Tower Rd ski trails. Two routes will be lit by nearly 400 candle luminaries: 3km out and back to the Tea House and 4km out and back to the Nature Shelter. Take a break and warm up by the cozy campfires and enjoy hot chocolate at both locations.
Date

January 13, 2024

Time

5 pm - 7 pm
Date

Feb 17, 2024

Time

6 pm - 8 pm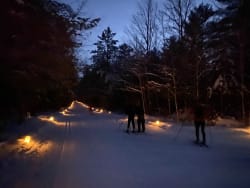 Spring Fling Candlelight Snowshoe
Are you ready for spring? Warmer weather, longer days, more sunshine…what's not to like!? Join us for the last candlelight event of the year as we celebrate the return of spring. Follow the candles up to the top of Squirrel Hill and, with luck, there should be great stargazing! Warm up at the bonfires at the top and bottom of the hill and stop by the fire at Wolf's Den shelter for some hot chocolate and marshmallows. The lit route is about a mile long with a shorter, flatter, option available.
Date

March 9, 2024

Time

6 pm - 8 pm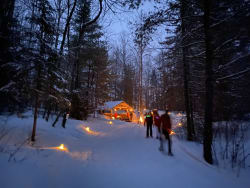 ---